Sunday, December 28, 2014
Publicadas por

indyram
a la/s 1:30 AM
No comments:


Sunday, December 21, 2014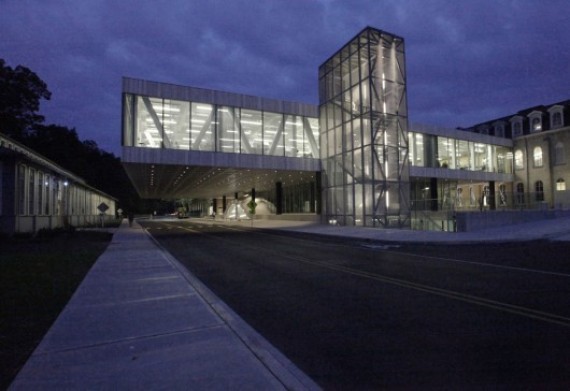 BEST UNDERGRADUATE SCHOOLS
1. Cornell University
2. California Polytechnic State Univ., San Luis Obispo
3. Rice University
4. Virginia Polytechnic Institute and State University
5. Syracuse University
6. University of Texas at Austin
7. Rhode Island School of Design
8. Southern California Inst. of Architecture
9. Pratt Institute
10. University of Southern California
1. Harvard University
2. Columbia University
3. Yale University
4. Massachusetts Institute of Technology
5. Cornell University
6. University of Michigan
7. Rice University
7. University of Pennsylvania
9. University of Virginia
10. University of California, Berkeley
10. Washington University in St. Louis
more:
http://www.huffingtonpost.com/2014/11/12/best-architecture-schools_n_6136282.html?utm_hp_ref=architecture
Publicadas por

indyram
a la/s 1:30 AM
No comments:


Sunday, December 14, 2014
Curtain Call: A simple box, dressed up with a curving metal screen, gives an ancient city a modern monument.
By William Hanley
For more than a thousand years, the building material of choice in Albi, a small city on the Tarn River in southern France, has been a pinkish Languedoc brick. Even the imposing 13th-century cathedral there, with its gigantic nave and 250- foot-tall bell tower, was built from the distinctive masonry, giving it an appearance that's more fortress than church. But just beyond Albi's historic quarter, a new building by Paris-based Dominique Perrault Architecture defies the city's traditional heft. The Albi Grand Theater, a simple box that the architects have wrapped with a curving metal screen, appears to float over a plaza. The scrim's four sides, which measure 38 feet at their tallest, look like stretched lengths of fabric suspended over each of the building's elevations. As you emerge from the old city's warren of crooked Medieval streets, the curtain-like form comes into view with a surprising weightlessness.
more:
http://archrecord.construction.com/projects/Building_Types_Study/Performing-Arts/2014/1412-Albi-Grand-Theater-Dominique-Perrault-Architecture.asp?bts=PA
Publicadas por

indyram
a la/s 10:23 AM
No comments:


The crowning glory is the Burj al Arab (Arabian Tower) completed in October 1999 and officially opened on 1st December 1999. This extraordinary 321m tower is entirely unique in design, fulfiling the clients brief for a landmark building in Dubai. The Burj al Arab looks set to take its place amongst the likes of Sydney Opera House & the Eiffel Tower as symbols of their countries.
The Burj al Arab is the 15th tallest building in the world, and the tallest single structure hotel, standing 300m out to sea on a man made island, it has taken design and technology forward into the next millennium. Designed in the shape of a giant sail on a triangular plan the Burj al Arab Hotel is stunning in its simplicity and clarity. The Burj al Arab tower is already being covered in international media throughout the world, forming a backdrop for international events such as the powerboating World Championships.
http://www.e-architect.co.uk/dubai/burj-al-arab
Publicadas por

indyram
a la/s 1:12 AM
No comments:


Popular Posts